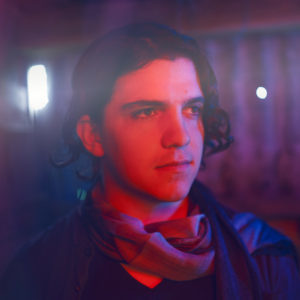 Jodie Landau is a composer, vocalist, and percussionist and is a member of the renowned Icelandic record label Bedroom Community, the acclaimed modern music collective, Wild Up, and the Grammy-winning vocal band Roomful of Teeth. His music combines elements of chamber music, rock, and jazz for live performance, film, theater, opera, and dance.
Landau has performed with groups such as the NY Philharmonic, Vinny Golia Large Ensemble,  Formalist String Quartet, Los Angeles Master Chorale & LA Master Chorale Chamber Singers. In addition to his own music, Jodie performs works by and with Ellen Reid, Christopher Rountree, Marc Lowenstein, Andrew Tholl, Valgeir Sigurðsson, Nico Muhly, Daníel Bjarnason, Jherek Bischoff, Emily Hall, and more.
In Fall 2013, Jodie was the multi-percussionist in The Industry's invisible opera for wireless headphones, "Invisible Cities" at Union Station. In Spring 2014, Jodie composed a live score for Ate9 dANCEcOMPANY's "mouth to mouth" performed by Wild Up.
And in Summer 2014, Jodie and Wild Up traveled to Reykjavik, Iceland to collaborate on a concert and recording with Graduale Nobili, the Icelandic choir that recorded and toured with Bjork for her Biophillia project, and recorded at Greenhouse Studios with Valgeir Sigurðsson, the founder of Bedroom Community.
In June 2015, Jodie sang on tour with Ballet National de Marseille and ICKamsterdam performing the premiere of Emio Greco and Pieter C. Scholten's "Extremalism" with music by Valgeir Sigurðsson. The work premiered at the Holland Festival and Montpellier Danse.
2016-2017 Jodie joined Bedroom Community for their Whale Watching Tour across Europe, including a performance with the Iceland Symphony Orchestra, with an additional US show at Walt Disney Concert Hall as part of the LA Phil's Reykjavik Festival.
Jodie performed the role of Jay in Vagleir Sigurðsson's opera "We Are In Time" with the Scottish Ensemble throughout Scotland.
The Last of Longridge was shot in Jodie's childhood home in the week prior to moving out in the summer of 2021. This visual album features Jodie's original compositions, and arrangements/covers of music by Jherek Bischoff, Emily Hall, Joanna Newsom, Sasha Siem, & Father John Misty.
music mix & edit –  Jherek Bischoff + Jodie Landau
recording engineer – Bradley Butterworth + Jherek Bischoff
video – Brian Hashimoto + Gema Galiana
video edit & color – Brian Hashimoto + Laura Sofía Pérez
featuring:
voice/piano – Jodie Landau
bass/ukulele – Jherek Bischoff
drums – Henry Kwapis
harp – Liza Wallace + Alison Bjorkedal
vibraphone – Sidney Hopson
clarinet/bass clarinet – Brian Walsh
violin – Adrianne Pope, Mona Tian, Kate Outterbridge
viola – Andrew McIntosh
cello – Derek Stein
choir – Kelci Hahn, Molly Pease, Anna Schubert, Kalean Ung Breen, Grace Newberry, Joanna Lynn-Jacobs, Angelica Rowell, Elisa Rosin, Sharon Chohi Kim, Victoria Fox, David Castillo, Alexander Lloyd Blake
special thanks to Valgeir Sigurðsson + Greenhouse Studios
Jodie Landau + Wild Up /as I wait for the lion (official video)
direction and concept by Samantha Shay
filmed by Vvictoria Sendra
performed by Jodie Landau + Samantha Shay
edited by Victoria Sendra + Samantha Shay + Jodie Landau
produced by Samantha Shay + Gerri Ravyn Stanfield
recording featured on Jodie Landau / Wild Up's "you of all things" released by Bedroom Community
Jodie Landau / wild Up
you of all things
Reviews
Out now on the Icelandic artist-run label Bedroom Community Records, You of All Things, is radiantly lovely in every detail, but perhaps the loveliest of all is Landau's astonishing vocal performance. As the music demands, it rises to something like a bellow, then sinks back to the airiest whisper, and even as it approaches silence remains impressively nuanced and controlled—it loves the microphone, and the mic plainly reciprocates.
— Daniel Johnson, WQXR — Q2 Music Album of the Week  view article
Jodie Landau's compositions create the path the listener is on. His works, and voice, seduce us with the charm of an old flame laying next to us in bed, the past forgotten and all that matters is where we are now. His tracks have an immediacy that occurs organically, building on ideas that all resolve one another in the end and the results are, like the ending of von Trier's Breaking the Waves, heavenly. The listener is transported by this album to another world, one unscarred by the harsh realities of the day. It uses music in the way that people have hoped to use it—as pure escapism from the world. The album is a labor of love from everyone involved and in this regard, the case could be made that you of all things has a political statement: what the world needs now is love, sweet love. And what the classical world needs now is Landau, sweet Landau to show it.
— Jackson Cooper, I Care if You Listen  view article
Review
In a collaboration with the stunning singers Theo Bleckmann and Jodie Landau, the sharp young composer processes poems and strings into surprisingly magnetic meditations on time. [...]

For its magnetic middle, Expiation sounds like Animal Collective circa Strawberry Jam, when skywriting vocals crisscrossed intricate layers of surrealist sequences. The piece's climax is a proper dance number, with hypnotic harmonies webbing a throbbing beat to Landau's half-yelled pleas for empathy. 'Each tongue troubles its dark canker,' he repeats, demanding that the past be reconsidered for the continually changing present.
— Grayson Haver Currin, Pitchfork  view article
Ellen Reid & Jodie Landau
Go Tell It
Wallis Annenberg Center for the Performing Arts - Beverly Hills, CA
National Sawdust - Brooklyn, NY
National Sawdust - Brooklyn, NY
National Sawdust - Brooklyn, NY
Iceland Airwaves Festival – Emily Hall
Kaffibarinn - Reykjavik, Iceland
Iceland Airwaves Festival – Whale Watching Tour w/ the Icelandic Symphony
Harpa - Reykjavik, Iceland
Bedroom Community's Whale Watching Tour w/ Sam Amidon
Barbican - London, England