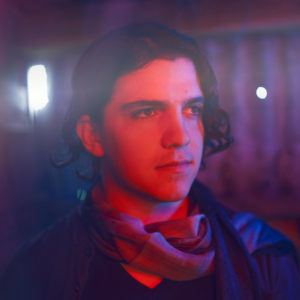 Jodie Landau is a 29-year-old composer, vocalist, and percussionist and is a member of the renowned Icelandic record label Bedroom Community. His music combines elements of chamber music, rock, and jazz for live performance, film, theater, opera, and dance.
Landau works with the acclaimed modern music collective, Wild Up as a performer, composer and production manager. He has also performed with groups such as Roomful of Teeth, Vinny Golia Large Ensemble,  Formalist String Quartet, Los Angeles Master Chorale & LA Master Chorale Chamber Singers. In addition to his own music, Jodie performs works by and with Ellen Reid, Christopher Rountree, Marc Lowenstein, Andrew Tholl, Valgeir Sigurðsson, Nico Muhly, Daníel Bjarnason, Jherek Bischoff, Emily Hall, and more.
In Fall 2013, Jodie was the multi-percussionist in The Industry's invisible opera for wireless headphones, "Invisible Cities" at Union Station. In Spring 2014, Jodie composed a live score for Ate9 dANCEcOMPANY's "mouth to mouth" performed by Wild Up.
And in Summer 2014, Jodie and Wild Up traveled to Reykjavik, Iceland to collaborate on a concert and recording with Graduale Nobili, the Icelandic choir that recorded and toured with Bjork for her Biophillia project, and recorded at Greenhouse Studios with Valgeir Sigurðsson, the founder of Bedroom Community.
In June 2015, Jodie sang on tour with Ballet National de Marseille and ICKamsterdam performing the premiere of Emio Greco and Pieter C. Scholten's "Extremalism" with music by Valgeir Sigurðsson. The work premiered at the Holland Festival and Montpellier Danse.
2016-2017 Jodie joined Bedroom Community for their Whale Watching Tour across Europe, including a performance with the Iceland Symphony Orchestra, with an additional US show at Walt Disney Concert Hall as part of the LA Phil's Reykjavik Festival.
Most recently, Jodie performed the role of Jay in Vagleir Sigurðsson's opera "We Are In Time" with the Scottish Ensemble throughout Scotland
Wallis Annenberg Center for the Performing Arts - Beverly Hills, CA
National Sawdust - Brooklyn, NY
National Sawdust - Brooklyn, NY
National Sawdust - Brooklyn, NY
Iceland Airwaves Festival – Emily Hall
Kaffibarinn - Reykjavik, Iceland
Iceland Airwaves Festival – Whale Watching Tour w/ the Icelandic Symphony
Harpa - Reykjavik, Iceland
Bedroom Community's Whale Watching Tour w/ Sam Amidon
Barbican - London, England
Reviews
Out now on the Icelandic artist-run label Bedroom Community Records, You of All Things, is radiantly lovely in every detail, but perhaps the loveliest of all is Landau's astonishing vocal performance. As the music demands, it rises to something like a bellow, then sinks back to the airiest whisper, and even as it approaches silence remains impressively nuanced and controlled—it loves the microphone, and the mic plainly reciprocates.
— Daniel Johnson, WQXR — Q2 Music Album of the Week  view article
Jodie Landau's compositions create the path the listener is on. His works, and voice, seduce us with the charm of an old flame laying next to us in bed, the past forgotten and all that matters is where we are now. His tracks have an immediacy that occurs organically, building on ideas that all resolve one another in the end and the results are, like the ending of von Trier's Breaking the Waves, heavenly. The listener is transported by this album to another world, one unscarred by the harsh realities of the day. It uses music in the way that people have hoped to use it—as pure escapism from the world. The album is a labor of love from everyone involved and in this regard, the case could be made that you of all things has a political statement: what the world needs now is love, sweet love. And what the classical world needs now is Landau, sweet Landau to show it.
— Jackson Cooper, I Care if You Listen  view article
jodie landau + wild up // as I wait for the lion (official video)
direction and concept by samantha shay
filmed by victoria sendra
performed by jodie landau + samantha shay
edited by victoria sendra + samantha shay + jodie landau
produced by samantha shay + gerri ravyn stanfield